A Tribute to Larry Lipsitz and Memories of January 1986 including Ed Tech Magazine
Sunday, February 10, 2019
I have been meaning to post the tribute below for nearly two years now. Better late than never.
Tribute
to Larry Lipsitz
(lifelong educator, trailblazer in the field of educational technology, and founder of Educational Technology Magazine (a part-time venture in 1961, and a full-time business from 1969 to the last issue in March-April 2017). Larry passed away at the age of 79 on November 4, 2016.
A portion of the article below appears in the last issue of Educational Technology Magazine which was edited by my good friend and colleague, Dr. Tom Reeves at The University of Georgia.
Bonk, C. J. (2017, March-April). Larry Lipsitz helped change my life. In D. Hlynka, & T. C. Reeves (Eds.). Tributes and remembrances for Larry Lipsitz. Educational Technology, 57(2), 7-8. Available: http://publicationshare.com/13 (entire tribute to Larry Lipsitz: http://publicationshare.com/14)
Original (slightly longer) Article:
Larry Lipsitz Helped Change My Life, by Curt Bonk, Contributing Editor of Educational Technology, and Professor, Indiana University, Instructional Systems Technology (IST) Department
My first memories of Educational Technology magazine take me back three decades to January 1986. What a month it was. On Friday January 3rd, I spent my final day as an accountant and CPA in Milwaukee while working in the high tech industry. I then packed my stuff that weekend and moved to frigid and snow-filled Madison, Wisconsin for graduate school which was -19 F at the time. In a night class the following week titled "Ed Psych 890: Theory: Computer-Based Instructional Systems" taught by UW Professor Richard Lehrer, I sat next to two people, Tom Reynolds and Okhwa Lee, who would become my best friends and top colleagues to this day. I also remember walking into the Teacher Education building a couple of weeks later on Tuesday January 28, 1986 and a TV mounted in the hallway, to which everyone around me was transfixed, was replaying the explosion of the Challenger space shuttle.
Suffice to say, that one of the most pivotal months in my life. Among the more consequential events was when I went to the School of Education library to work on an early assignment for EdP 890 and opened up the new January-February 1986 issue of Educational Technology. In it was an article by the famed Roger Johnson and David Johnson brothers from the University of Minnesota on "Computer-assisted cooperative learning." I was hooked. Another article from a previous issue in 1983 on "What computer-assisted instruction can offer toward the encouragement of creative thinking" by Joan Gallini directly addressed one of the reasons I was in graduate school; i.e., to foster human thinking and teamwork with technology. Both articles later found their way into my master's thesis. Articles in other issues of this magazine by folks like Robert Tennyson, David Jonassen, Priscilla Norton, Dean Spitzer, and countless others helped me to ramp up quickly and learn from the leaders in the field. In fact, in the fall of 1986, I wrote a letter to David Jonassen after reading his Educational Technology article on "Soft technologies: A paradigm shift for educational technology" and I received a personally written response from David a few weeks later in my mailbox at home. Email accounts would be assigned a year later.
Suffice to say, opening any issue of Educational Technology was like being a kid in a candy store. Little did I realize that I would later get to meet the editor of that magazine during a symposium at the AERA conference in April 2004 in San Diego (ironically, the editor of this article, Tom Reeves, was the featured symposium discussant). Even less expected was that Larry would actively solicit an article from me. How did he know my name? Why was he asking for an article from me? Larry sat in the front row of that research symposium in San Diego in an attempt to learn as much as he could about the research of the presenters. If it was any good, they would be sure to get his business card and request for an article. Clearly, Larry Lipsitz had a keen pulse on the field of educational technology.
In more recent years, Larry would call or email me from time to time to discuss trends in the field and up-and-coming people whom he might contact for an article or a book review. He would also confer with me about upcoming special issue themes and potential contributors. His interests in educational technology were not only wide, they were deep; with mental notes of previous authors, ideas, models, frameworks, concepts, theories, etc., spanning more than five decades. He was perhaps the leading historian and documentarian of our field. It is in the privilege getting to work with passionate, optimistic, and transformative people like Larry Lipsitz that I am most thankful that I left the field of accounting three decades ago. Larry pushed not only the field of education ahead in positive ways, but markedly impacted the human condition in general. Thanks so much Larry for helping change my life and the lives of so many more! You cannot be replaced. We all deeply miss you.
Labels: Curt Bonk, David Jonassen, educational technology, Educational Technology Magazine, Larry Lipsitz, Larry Lipsitz Tribute, Okhwa Lee, Richard Lehrer, Roger and David Johnson, Tom Reeves, Tom Reynolds
The Monster is out! Long live the monster: R678 Emerging Learning Technologies Spring 2019
The Monster is out! Long live the monster.

I mean that I updated my Monster Syllabus for R678 on Emerging Learning Technologies last month. It is a very painful and arduous process. My head hurts when I am done. It is pounding. I do not recommend it to anyone. Try updating and changing a 70 or 80 page syllabus sometime. It is like a book. Hence, why I am sharing a freely open online version of it. Nearly every article is free and available online. And there are hundreds!

Each year, I attempt to update the weeks on mobile learning, augmented and virtual reality, open and digital textbooks, e-learning and blended learning, open educational resources (OER), massive open online courses (MOOCs), collaborative technologies, and much much more. This year I added AI and adaptive learning to the final weeks. Not easy. At times fun. At times frustrating; especially when links go dead.

The field of educational technology is evolving fast. It is very difficult to keep up. But it can also quickly overwhelm. I say this as a caution to all those who enter.

At the same time, the R678 syllabus is one way to stay on top of things or to search for certain topics. The syllabus contains high level research articles, free and open books and technical reports in the field of learning technologies, daily news articles, videos on each topic, researcher interviewers, open educational resources, links to technology tools and vendors, etc.

See what you think. The monster (76 page version) and mini-monster (30 pages thin version) are available here:



Spring 2019:

R678 ("Monster" Syllabus 76 pages)


Spring 2019:

R678 (Abbreviated "Mini-Monster" 30 pages)

See below for more information on the monster. We have guest speakers coming up. Anyone is welcome in Zoom.
= = = = = = = = = = = = = = = = = = = = = = = = = = = = = = = = = = =


Emerging Learning Technologies (The Famed "Monster" Syllabus)

Indiana University, School of Education, Room 2101 (both online and FTF sections)

Instructor:

Curt Bonk, Professor, Instructional Systems Technology Dept.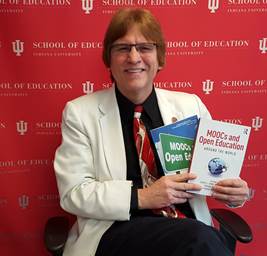 Week 1. (January 7) Introduction to the Open World: Visionaries and Visions
Week 2. (January 14) Alternate Reality Learning: AR, VR, Gaming, and Simulations
Week 3. (January 21) Open Textbooks, E-Books, and Digitally Enhanced Books
Week 4. (January 28) The Expansion of Blended and Fully Online Learning
Week 5. (February 4) Extreme, Nontraditional, and Adventure Learning
Week 6. (February 11) Open Educational Resources (OER) and OpenCourseWare (OCW)
Week 7. (February 18) Open Education and Massive Open Online Courses (MOOCs)
Week 8 (February 25) More MOOCs and Open Education Around the World
Week 9. (March 4) Open Education in the Developing World (i.e., Emerging Economies)
Week 10. (March 18) Informal & Self-Directed Online Learning Environments (includes: language lrng)
Week 11. (March 25) Connectivism, Social Media, and Participatory Learning
Week 12. (April 1) Interactive, Global, and Collaborative
Learning
(including wikis and learning spaces)
Week 13. (April 8) Mobile, Wireless, and Ubiquitous Learning
Week 14. (April 15) The Future of Learning Tech: Networks of Personalized Learning
Week 15. (April 22) The Future of Learning Tech: AI, Robotics, and Personal Digital Assistants
==========================================================================
Instead
of passive consumption-based learning, we are living in a participatory age where learners have a voice and potentially some degree of ownership over their own learning. Here at the start of the twenty-first century, emerging technologies
and activities
– such as blogs, wikis, podcasts, ebooks, YouTube videos, massive
open online courses (MOOCs),
simulations, virtual worlds, and wireless and mobile computing – are generating waves of new opportunities in higher education, K-12 schools, corporate training, and other learning environments.
And today's millennial learner, immersed in an increasingly digital world is seeking richer and more engaging learning experiences
; and now the new "phigital" learner who is equally at home in the digital as well as physical world
. Amid this rising tide of expectations, instructors across educational sectors are exploring and sharing innovative ways to use technology to foster interaction, collaboration, and increased excitement for learning.
It
is time to take advantage of the new participatory learning culture where learners build, tinker with, explore, share, and collaborate with others online. It is also time
to
utilize
free and open educational resources, opencourseware, learning portals, and open source software across educational sectors and income levels. Some of you will create and publish a cross-cultural Wikibook. Others will create video blogs, and still others will design YouTube-like videos.
Some might even flip their classrooms. Still others will enroll in or perhaps even teach a massive open online course (MOOC).
The syllabus for this course is purposefully long. I refer to it as "the monster syllabus." I will be your online concierge or guide through masses of online resources.
In an age when eyeball-to-eyeball learning is no longer necessary, effective online instructors do not simply teach, but moderate, coach, and assist in the learning process. Today a teacher, trainer, professor, or instructional designer often assumes the role of concierge with a wealth of freely available tools and resources to guide her learners.
Or perhaps, after reading through this syllabus, you might be more inclined to call such a person a "curator" of quality content. Still others might focus on the "counseling" skills needed to help guide learners through their assorted instructional options.
In this more open twenty-first century learning world, anyone can learn anything from anyone else at any time.
Labels: AI, AR and VR, blended learning, collaborative technologies, e-books, emerging learning technologies, Massive Open Online Courses (MOOCs), mobile learning, monster syllabus, OER, online learning, open textbooks